About
Designed and built by musicians. Made in the USA.
Ingram Engineering specializes in the design and production of the highest quality and most versatile studio tools available. Classic circuit design topologies and techniques are used as a basis for original designs and feature sets that provide great sound and unparalleled consistency under all usage conditions.
Read the following Music Connection article in print or online at MUSICCONNECTION.COM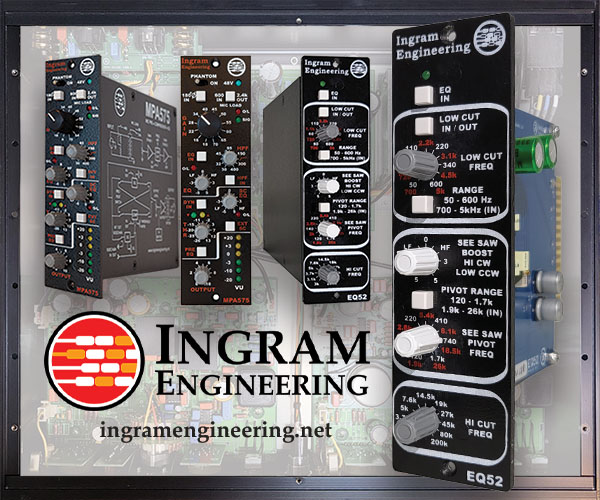 CLOSE UP: INGRAM ENGINEERING
CLOSE UP, MAGAZINE / FEBRUARY 21, 2022 / BY JONATHAN WIDRAN
My lifelong passion for writing and playing original music fed into my interest in creating original gear and once people started using these products regularly, it made sense to build Ingram Engineering around that.
Products for the modern studio
From the MPA685 Preamp:
"This is the kind of preamplifier I want to see more of in our world. It does what it's supposed to do and it doesn't add much else to the sound. ...built with care... to last several lifetimes." - Scott Dorsey, Recording Magazine
And the MPA575 Channel Strip:
"I loved using the MPA575. It's an incredibly adaptable piece of equipment that works well in practically any recording situation." - Russ Long
To the EQ52 Equalizer:
"I had great success using the EQ52 as a stereo mastering touch up tool." - Barry Rudolph, Recording Engineer/Producer
500-Series Microphone Pre-amplifier, Compressor and Equalizer
A complete and cost effective mic signal processor
Mic Pre-amp
Compressor
Equalizer
All the beautiful sound shaping capabilities of the rack mount line squeezed into a 500-series chassis
Program dependent compressor with side chain EQ
Combined Low-High frequency equalizer for broad frequency response shaping
Variable frequency low cut filter
Transformer coupling and two-stage gain provided by natural sounding JFET amplifiers
Variable mic input impedance with ultra wide frequency range for shaping tones
Very high headroom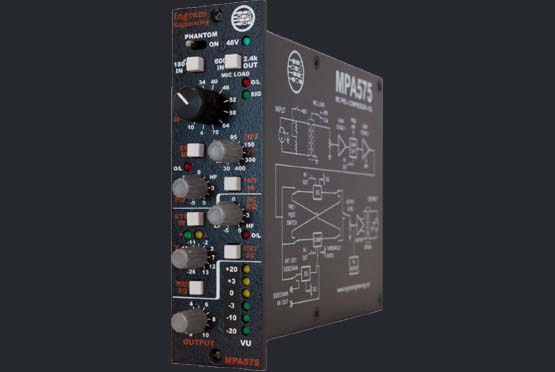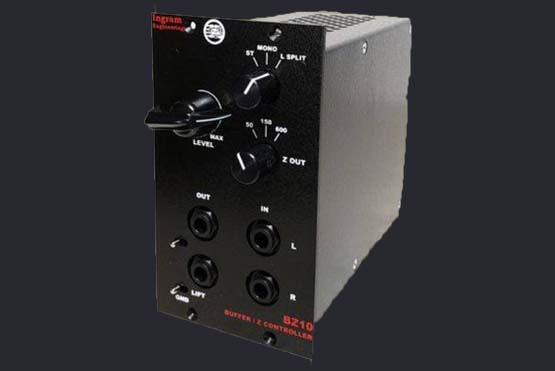 500-Series Buffer and Impedance Controller
Two Channel Buffer
Input Impedance: 1.5 MΩ
Output Impedance Selectable: 50, 150 or 600 Ω
Selectable Channel Mode

True Left/Right Stereo
L/R Summed to Mono
Left Split to Both Outputs

Stereo Output Level Control
Transformer Coupled Inputs and Outputs
1/4" Balanced Input and Output on Front Panel
Left Channel Input and Output Also Accessible Via 500-Rack XLR on Back Panel
Microphone Pre-amplifier, Direct Box and Re-amplifier
The most versatile studio tool available in a single chassis
Direct Box
Re-amplifer
The MPA685 combines the best features of the MPA681 and the MPA201
Variable mic input impedance with ultra wide range for shaping tones
Transformer coupling and JFET amplifiers with excellent sound and the best transient response
Very high headroom
Extremely tight gain matching between channels for stereo mic or make-up gain applications
Two-stage gain structure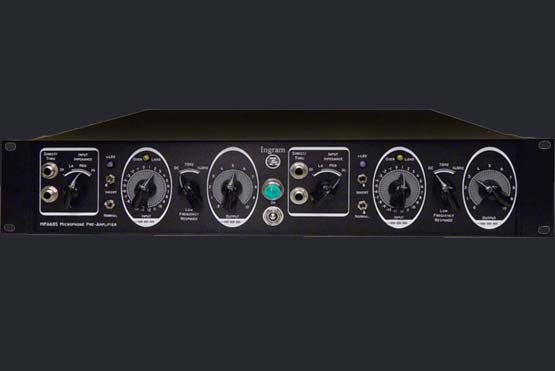 Microphone Pre-amplifier and Direct Box
Mic Pre-amp and Direct Box integrated in a single chassis
Variable mic input impedance geared to the low impedance range
Extremely tight gain matching between channels for stereo mic or make-up gain applications
Transformer coupling and JFET amplifiers with excellent sound quality
Currently out of production, but the excellent features and sound quality of the MPA681 have been included in the MPA685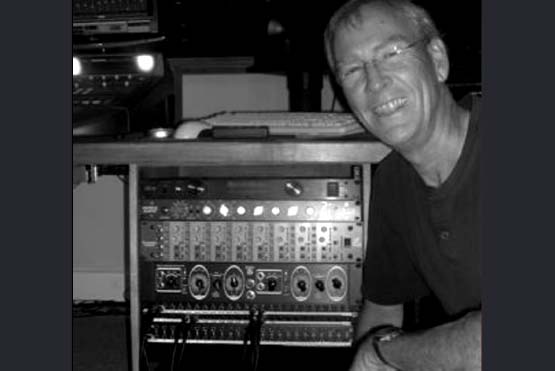 Ordering our products is easy. Contact our dealers or complete the contact form. Indicate which item you want or have questions about and press the Send Message button. We will be in touch with you. We accept payment through PayPal. Money back guarantee.
Check out our new YouTube channel. Please like, follow and subscribe.
Your message has been sent. Thank you!