MPA685
MICROPHONE PREAMPLIFIER
Dual Channel Variable Input Impedance Transformer Coupled Discrete Mic Pre, Direct Box & Re-Amplifier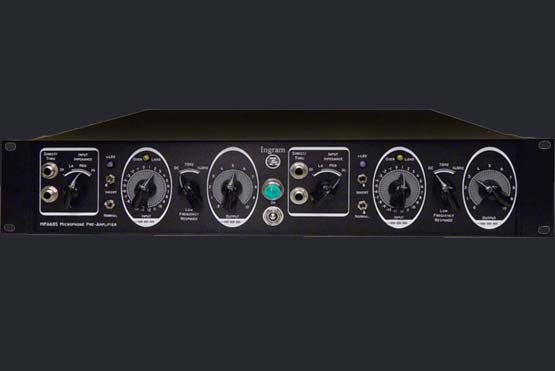 Features
User Selectable Input Impedance Available to Shape Audio Tones
Transformer Coupled Input / Output Using Custom Sowter and Jensen
100% Discrete JFET Input/Class A Output 2-Stage Amp Design
Low Noise and High Headroom for Wide Dynamic Range
Extended Frequency Response with Ultra-Linear Phase Response
Excellent Pulse Response for Smooth Tones
Direct Input with Loop-Through
Full Direct Box Capability
Re-Amping Capability
Excellent Gain Matching Between Channels
Combined Input Attenuator / Gain Adjustment via Goldpoint 24-Position Stepped Switch for Optimal Noise Performance and Dynamic Range (No Input 20dB Pad)
Buffered Output for Optimum Load Isolation and Current Drive Capability
Variable Output Level Control Using Long Life Noiseless Level Control Pot
2nd Order High Pass Filter, Switchable Between 70 Hz and 140 Hz
Overload Indicator Accurately Detects Distortion to Ultrasonic Frequencies
Internal Power Supply with Regulated +48V phantom power
Long Life Panasonic HE Series and Nichicon Fine Gold Electrolytic Capacitors
Polypropylene and Metallized Polyester Non-Electrolytic Capacitors
Low Noise 1% Vishay/Dale RN55/RN60 Resistors
The Ingram Engineering MPA685 provides two channels of 100% discrete semiconductor based amplification of microphone and instrument signals. Input impedance is selectable via a front panel three-position switch. Each pre-amp is configured at the factory for one of two input impedance range options, specified when ordering: Range 1 is best suited for passive mics and active mics that operate into low to low-medium load impedances; range 2 is best suited for condenser or ribbon mics whose circuits require a high impedance load for best operation.
The pre-amp uses input and output transformer coupling for high CMRR, best noise performance and tonal character. Input/output Transformer coupling is accomplished via combinations including Jensen and custom Sowter transformers, among others. The MPA685 is designed to provide the input transformer with constant impedance load, independent of pre-amp gain and / or attenuation settings, therefore guaranteeing excellent transient response and optimum noise matching.
Amplification is provided by a 2-stage all-discrete JFET input / Class-A Output circuit. Rather than using a 20dB input pad, a combined variable-attenuator / gain stepped switch control by Goldpoint provides the ability, unique among most pre-amp designs, of optimizing signal to noise and dynamic range for any audio signal level and any pre-amp setting. A balanced, buffered output stage isolates the gain stages from cable effects.
Full Direct Box capability is provided via an unbalanced JFET buffered instrument direct input. A front panel DI loopthrough is provided for simultaneously recording and routing the signal to a speaker cabinet or processing equipment. The MPA685 can also be used for re-amping recorded tracks.
Extremely tight gain matching between channels, along with the transformer usage and discrete circuit design, also makes the MPA685 an excellent choice for stereo make-up gain applications.
High voltage rails enable excellent headroom and provide high output level. A regulated +48V power supply provides reliable power for phantom power mics. Clip detector circuit LED indicates positive or negative audio peaks over the full audio spectrum.
Top quality electronic components include long life Panasonic HE Series and Nichicon Fine Gold Electrolytic Capacitors, polypropylene and metallized polyester non-electrolytic capacitors, low noise 1% Vishay/Dale RN55/RN60 Resistors, stepped switch by Goldpoint for recalling exact pre-amp settings, and continuously variable output level control using long life ETI noiseless level control pots with high rotational life expectancy.
Key Specifications:
Input transformer options provide the following mic impedance loads:
Range Option 1
Lo: 60 Ohm
Med: 200 Ohm
Hi: 600 Ohm
Range Option 2
Lo: 600 Ohm
Med: 1.5k Ohm
Hi: 2.5k Ohm
Max Gain, Mic Input:
Range Option 1
Lo: 79 dB
Med: 73.5 dB
Hi: 67.5 dB
Range Option 2
Lo: 70 dB
Med: 75 dB
Hi: 76 dB
Max Gain, Direct Input: 69 dB
Frequency Response, Mic Input, ±3 dB, Gain Setting = 0:
Range Option 1
Lo: 10 Hz to >100 kHz
Med: 10 Hz to >100 kHz
Hi: 10 Hz to >100 kHz
Range Option 2
Lo: 10 Hz to >90 kHz
Med: 10 Hz to >98 kHz
Hi: 10 Hz to >98 kHz
Frequency Response, Direct Input, ±3 dB, Gain Setting = 0: <10 Hz to>500 kHz
High Pass Filter -3 dB Cutoff Frequencies:
THDMIN = 0.003% at +14dBu, 1kHz, 1.5k Ohm pre-amp impedance
Dynamic Range = 133dB
Max Input Level = +20dBu
Max Output Level = >+30 dBu with <1.0% THD, 1kHz, 100k Ohms Load Impedance
MPA685 REVIEWS
"Recently we had the opportunity to audition the Ingram MPA 685 microphone preamplifier in our lab. We were impressed with the build quality and features of the MPA 685 and were further impressed with its performance. The preamplifier has ample gain required for passive ribbon microphones and a proper phantom supply for active ribbon microphones such as the R-122. A switchable impedance switch allows for correct matching for passive ribbon models and we found the MPA 685 to be quiet and transparent. Owners of Royer or any other ribbon microphones should find the MPA 685 to be a very good marriage."
About the following Audio files
This web page contains many audio samples recorded using the MPA685 pre-amplifier. Some samples are from recording sessions, with tracks using these pre-amps isolated. Others are from special sessions we set up to demo the MPA685 versus other pre-amps, especially the Neve 1272 since it is such a well-known reference. For additional audio samples, we refer you to the MPA575 page, as the MPA685 and MPA575 share the same design approaches and, in fact, share the same discrete audio amplifier design.
Samples were recorded using a wide range of instruments and microphones to demonstrate the quality that can be achieved. To provide a frame of reference during some of the sessions, mic signals were split and simultaneously routed to an Ingram Engineering MPA685, Neve 1272, and John Hardy M1 so that A/B/C comparisons could be made. All samples can be auditioned by clicking on the icons below to either stream from this website or to download. It is especially revealing to download the samples simultaneously recorded through the MPA685, Neve 1272 and John Hardy M1, load them into a DAW and solo one mic/pre-amp combination at a time. Differences range from subtle to very noticeable.
The MPA685 has three impedances that may be presented to a mic, and the setting used for each audio sample is noted for the Chase Park and Bakos Amp Works sessions. In general, recordings with the low impedance MPA685 setting show darker, more Neve-like tones. Medium and high impedance settings increase the brightness and neutrality, providing tones more like GML or John Hardy type pre-amps.
Following is a list of folks who have contributed studio and personal time to produce and record the audio samples on this website: Randy Kohrs from Slack Key Studios in Nashville, TN, David Barbe from Chase Park Transduction in Athens, GA, Jeff Bakos from Bakos Amp Works, Marty Kearns from 800 East Studios and Chris Griffin from Griffin Mastering and Recording Studios, all in Atlanta, GA.
The following musicians were key performers on sessions: Darren Stanley (drums, Bakos Amp Works), Danny Hutchens of Bloodkin fame (piano, acoustic guitar and vocals, Chase Park Transduction), Brantley Senn (bass, Chase Park Transduction), Phil Carpenter (electric guitar, Chase Park Transduction), Eric Ingram (drums, Chase Park Transduction), Matt Kinman (Griffin Mastering) and Roger Ruzow (Griffin Mastering). All mics used were from each of the studios' arsenals, with the exception of the Royer 121s used at Chase Park, which Ed Rawls, of The Living Room Recording Studio, was kind enough to loan for the sessions.
LISTEN TO THE MPA685:
CPT: Chase Park Transduction
The following group of samples was recorded at Chase Park Transduction. It was recorded with Pro Tools, version 7.3, and an HD 192 interface by David Barbe. For each of the takes, David first listened to each impedance setting of the MPA685, then, selected one that would be the best for comparison to the other pre-amps. Each track was recorded to hard disk with no equalizer or processing.
At Chase Park, we had a room full of Engineers and musicians who each conducted blind listening tests comparing each mic / pre-amp combination, and commented on the differences between them. In addition to David Barbe, Danny, Brantley, Phil and Eric, Will Manning of Village Recordist, Richard Salino and Matt DeCamp lent their ears and opinions. This session was especially interesting because, in some cases, there was a consensus on the different sound qualities between pre-amps and which one was preferred. However, in other cases, each Engineer and musician heard very different aspects of the music that stood out to them and drove them to choose one combination over another. There were many surprises when someone was asked to guess which pre-amp they believed they were listening to. The best way to conduct a similar test is to download the .wav files and load them into a DAW. All tracks for that particular take can be played simultaneously and one pre-amp at a time can be solo'ed.
Piano, using a Lawson L251 mic that was split to the three pre-amps shown below.
Electric Guitar, using a Royer 121 mic that was split to the three pre-amps. Phil played a 1980 Gibson SG Firebrand through a 1966 Ampeg Gemini 1 amp.
Acoustic Guitar & Vocals, using a Microtech Gefell UM92 mic, split to the three pre-amps. Danny played a Silvertone guitar that was rebuilt by Scott Baxendale.
Bass Guitar, Direct Inject and split to the three pre-amps. Brantley played a 1976 Fender Precision.
Drums
The following groups of drum samples were also recorded at Chase Park Transduction. The kick and snare were recorded through the Ingram MPA685, Neve 1272 and John Hardy M1 for comparisons. A room mic and an overhead mic were also included in order to capture the full kit for a complete mix. The room mic was placed about 6 feet in front of the kick and about 3 feet off the floor. The overhead mic was about 3 sticks over the snare. The composite mix was made only with level adjustments to balance the sound. The drum set was a 1970 Ludwig except for the snare, was a Ludwig Black Beauty reissue.
Full Kit, with Ingram MPA685 & Lawson FET47 mic on kick, with Ingram MPA685 & Josephson e22S mic on snare, API 312 with Neumann KM54 on overhead and API312 with Royer 121 on room, level adjusted and mastered, but no EQ.
Kick, using a Lawson FET47 mic
Snare, using a Josephson e22S mic
Bakos Amp Works
The group of samples that follows was recorded at Bakos Amp Works. For the individual drum tracks, all three MPA685 impedance settings were recorded for comparison to the Neve 1272. The full kit recording was made with the impedance setting judged to sound the best. The 1272 at Jeff's studio is wired for 600 Ohms input impedance. The session was recorded to Pro Tools using a Pro Tools 192 interface, at 24 bit, 44.1kHz sampling rate. Darren Stanley played a 1995 Ludwig Super Classic kit with DW snare with bamboo shell. Yamaha wood hoops were used on all toms. The cymbals and high hats were Bosphorus. Each track was recorded to hard disk with no equalizer or processing. The only exception is the single mixed and mastered sample, which is labeled as such. The signal path consisted of microphone, pre-amp then A/D. Additional notes follow the samples.
Full Kit, mixed and mastered, with Ingram MPA685 on all tracks. This master was made with slight EQ, compression and level adjustment for mastering. While Jeff's studio has many vintage and new outboard processing pieces, the quick mix was made using the following Pro Tools plugins:
Kick: Waves Renaissance EQ4 Equalizer and Waves/Chris Lord-Alge CLA-2A compressor
Snare: Waves Renaissance EQ4 Equalizer and Waves/Chris Lord-Alge CLA-76 compressor
Overhead: Waves SSL 4000 Channel Strip Plugin Collection
Bus Compressor: routed through Jeff's Trident 65 mixer then processed through the Alan Smart C2 compressor
Full Kit, mixed and mastered, with Ingram MPA685 on all tracks.
Full Kit, individual tracks, with Ingram MPA685 on all tracks. No mastering was used for the following tracks.
Drum Overheads, using a stereo pair of Neumann KM184's that were split to the MPA685 and the Neve 1272. Each of the tracks below are stereo. The mics were used in an XY configuration approximately three feet above the drum kit.
Kick Drum, using an AKG D12E, split to the Ingram MPA685 and to the Neve 1272
Snare Drum, using a Shure 57, split to the Ingram MPA685 and to the Neve 1272.
800 East Studios
The following samples were recorded by Marty Kearns at 800 East Studios. Audio samples from the 800 East sessions consist of songs recorded by Nina Gross and the band Dracula the Opera, as well as Marty, himself, on the Hammond B3 organ, in collaboration with Davis Causey of Last House Studios, guitar, Khari Cabral Simmons on bass and Rafael Periera on drums.
Full band, slow blues, with Ingram MPA685 and a Neumann U67 mic on organ Marty Kearns played a Hammond B3 organ, Davis Causey played guitar, Khari Cabral Simmons was on bass and Rafael Periera played drums.
Full band, rock, with Ingram MPA685 on both electric guitars, using a TAB-Funkenwerk Mercenary Audio modified SM57 (left channel guitar) and a Beyer 160 mic (right channel guitar) Dracula the Opera performed this song.
Vocals & Piano, with Ingram MPA685 and a pair of AKG C414s in figure 8 pattern on piano Nina Gross sang and Travis Vaughn played piano.
Full band, organ/guitar jam, with Ingram MPA685 and a Neumann U67 mic on organ. Marty Kearns played a Hammond B3 organ, Davis Causey played guitar, Khari Cabral Simmons was on bass and Rafael Periera played drums.
Slack Key Studios
The following samples were recorded at Slack Key Studios by Randy Kohrs. The MPA685 was used for all tracks. The first song, "Oh Dorthea", has four different voices on the track, with three of them singing the lead. The MPA685 pulled the vocals and instruments together and made everything cohesive, providing a strong testament to the pre-amps ability to realize a smooth, warm sound when capturing audio into a DAW. The full song, as well as solo'ed tracks, are shown below.
"Oh Dorthea", mixed and mastered, with MPA685 on all tracks.
Two additional songs recorded by Randy Kohrs at Slack Key studios are linked below. The MPA685 was again used extensively for the tracks. Both songs were mixed and mastered.
Miner Street Studios
The following track is part of the Weathervane Music Shaking Through series at Miner Street studios. It was engineered by Matt Schimelfenig, produced by Peter English, Brian McTear and David Milstein. The band, The Tontons, traveled to Philadelphia to document the recording of the song "Lush" with Brian and crew. The Ingram Engineering MPA685 was used for vocals, with a Neumann U67 capturing Asli Omar's vocals. A Teletronix LA-2A compressor was used after the pre-amp.
Full Song: "Lush" by the Tontons, mixed and mastered. Lo and Hi resolution stems are available at the Weathervane website. The song is also available at Soundcloud.
Griffin Mastering
The following samples were produced and engineered by Chris Griffin at Griffin Mastering. All samples are without EQ or post-preamp processing. Chris found the MPA685 sweet spot for audio quality by using the best impedance setting and input level control, then adjusted the output control for proper level.
Trumpets, with the MPA685 and a Royer 121
Roger Ruzow played trumpet.
Guitar, with the MPA685 and a Sennheiser MD 421.
Matt Kinman played a 1961 Vibrolux guitar.
Guitar, with the MPA685 and a Sennheiser MD 421.
Matt Kinman switched to an Ampeg Reverb Rocket for this sample.
Bass, Direct Inject, with the MPA685.
A 5-string Lackland Direct bass was used for this sample.
Final notes:
Randy Kohrs' sessions show the strength of the MPA685 in providing an ideal interface between the mic and a DAW. The MPA685 adds a slight amount of color without overpowering the natural sound realized by the mics. Randy used a collection of ribbons and condensers with excellent results. Without knowing details of the recording session, it might be assumed that the session was recorded to tape rather than a DAW.
The Neumann KM54 and the KM184 mics used for the Bakos sessions make for an excellent showcase of the MPA685's ability to handle mics with low output impedance very well. Many pre-amps are optimized to perform with nominal 150 or 200 Ohm mic output impedance but have poor performance with low output impedance mics such as the KM184, which has an output impedance of 50 Ohms, or the KM54 when it is wired for 50 Ohms. Non-optimized dessigns create audible artifacts due to excessive ringing and corruption of the original signal because especially the transient response for instruments like piano and drums is degraded. The MPA685 was designed to provide an excellent representation of the transients and tones with a full range of mic output impedances and with any MPA685 setting. The drum overhead tracks recorded with the KM184 pair and the MPA685 at Bakos' studio can essentially stand alone, without EQ and without additional mics on the kit.
The Royer 121s used at Chase Park for the drum room mic and electric guitar, and for the trumpets recorded at Griffin Mastering show an ideal match between Royer and the Ingram Engineering MPA685. The MPA685 with low impedance setting has the capability of adding subtle coloration to complement the Royer 121. The MPA685 also has the capability to 'get out of the way' to let the 121 determine the audio quality when the high impedance setting is used.
The MPA685 is also well suited to handle low frequency content so that the most options are available at mixdown, no matter whether low, medium or high input pre-amp impedance setting is used. Deep bass frequencies are preserved even with mic output impedance as high as 600 Ohms. Whereas some mic preamps show excessive low frequency rolloff with 600 Ohm mics, the MPA685 lets you use the full capability of the mic. Especially the AKG D12E mic used for the sessions has extended low frequency response with bass frequency emphasis and shows the strengths of the MPA685 for accurately reproducing these tones.